Mountain Views and Southwestern Charm
At Table Mountain Inn, you'll find the spirit of the West, the splendor of the Rocky Mountains, and warm western hospitality combined in one extraordinary adobe-style boutique hotel. Our traditional southwestern decor and modern amenities provide an ideal home away from home.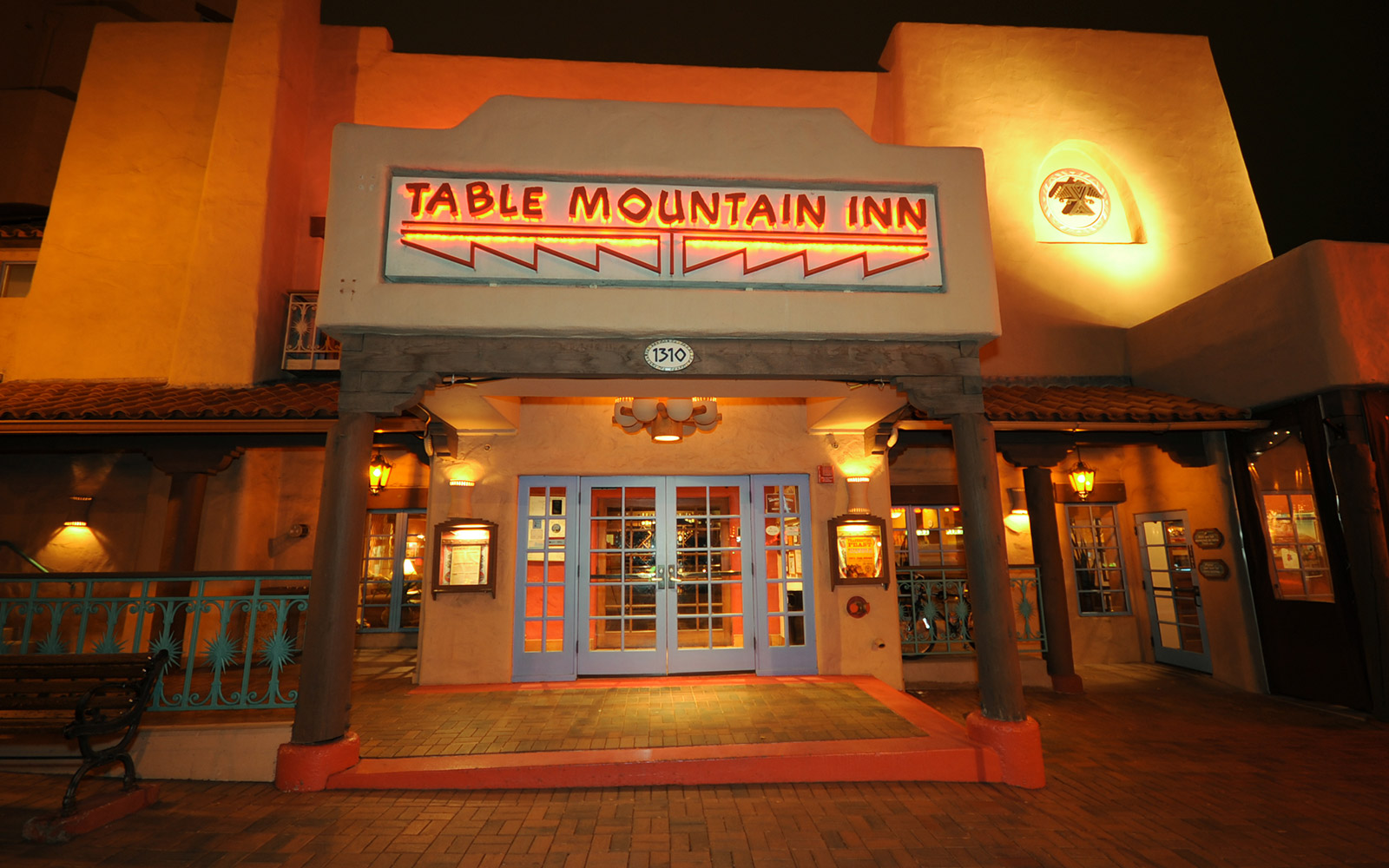 Table Mountain Inn as we know and love it today has undergone numerous changes in ownership, style and dimension since it first opened in 1925 as the Hotel Berrimoor*. The Berrimoor was built by entrepreneur Robert Berry with the intention of being a modern "up-to-the-minute" luxury hotel to be the pride of Golden. At the time, the hotel offered 32 rooms and a coffee shop. The Berrimoor only lasted a few years before depression came into full swing in Colorado in the early 1930's, but the hotel was only dark for a few years before entrepreneur and hotelier, Edgar P Sparks, purchased the property and brought it back to life under the name "The Cody Hotel". Mr. Sparks chose the name to honor Colonel William "Buffalo Bill" Cody whose grave and memorial notoriously reside at Golden's own Lookout Mountain. Unfortunately, the times could not support The Cody Hotel either, and the property once again closed then sold, with numerous ownership, name and style changes (including a brief table in Art Deco!) over the next 6 years.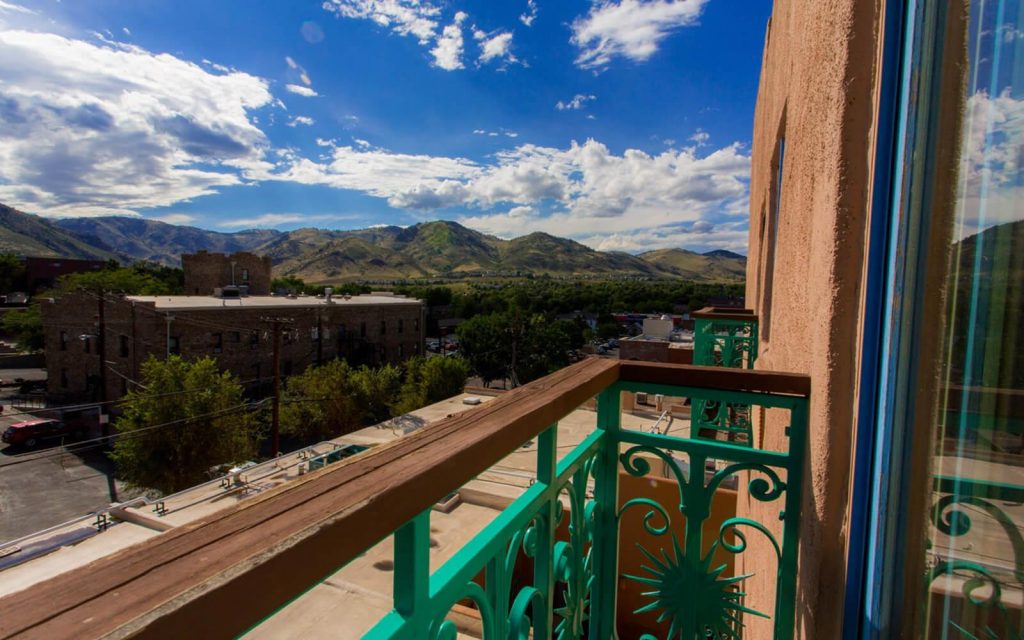 Thankfully, civic leader, businessman and former Golden Mayor, Lu Holland came to the hotel's rescue in 1948 reviving the property and renaming it "Holland House". Mr. Holland's first order of business was a renovation during which he created two banquet spaces. These spaces would come to host some of Golden's finest social functions and have been immortalized in Hal Shelton's "The Birth of Golden in 1958" mural.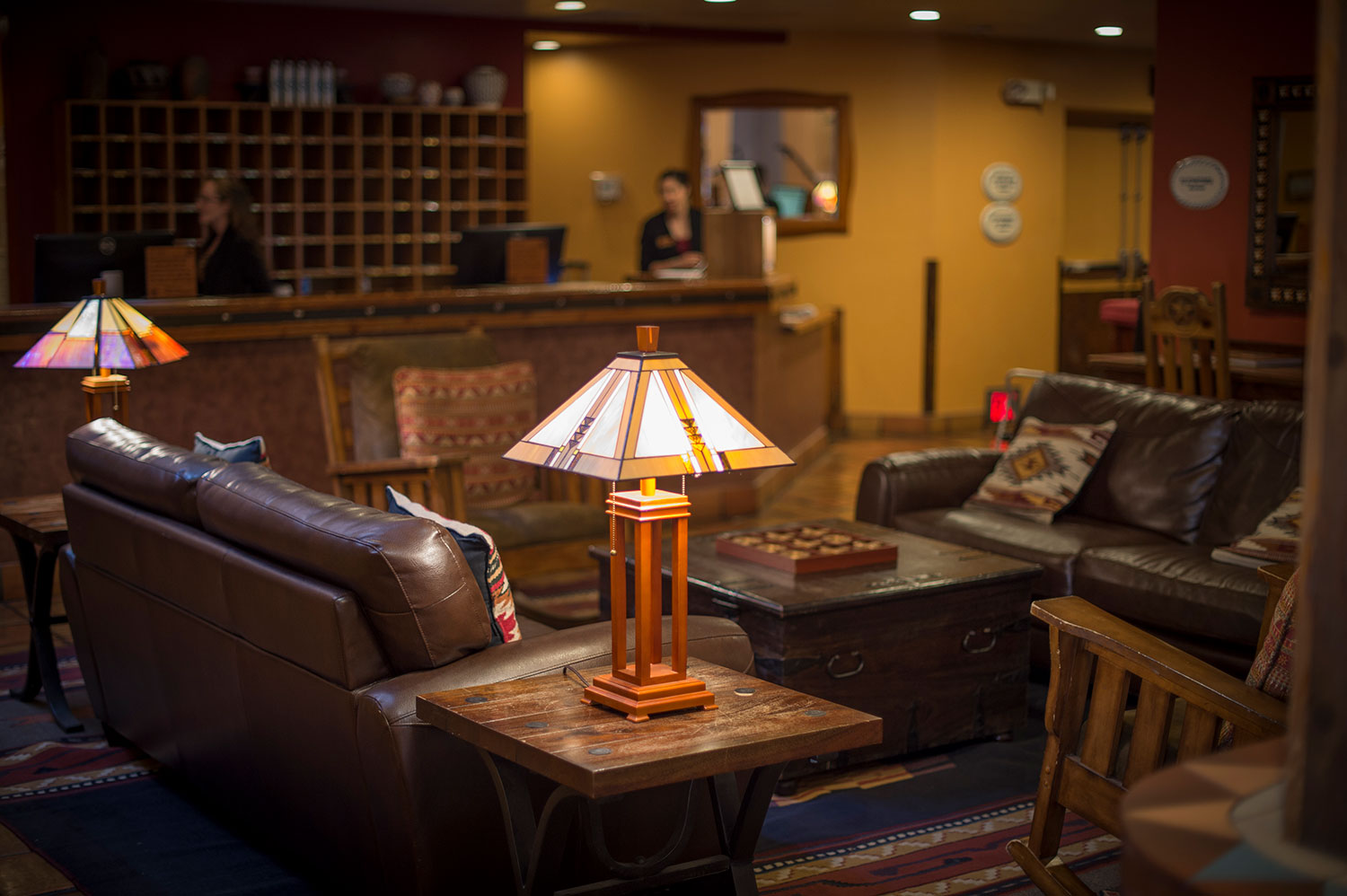 In 1963, as the automobile industry was experiencing its first boom, the Holland House re-invented itself as Golden's First Motor Inn. For the next 24 years the Holland House would become synonymous with Golden. The revitalized hotel became popular throughout the Denver metro area not only as a great place to stay but also for the food served at the Holland House Coffee Shop.
Unfortunately, Mr. Holland retired in the early 1980s, and hotel could not survive under any of the new owners and in 1987, the Holland House closed its doors altogether. Golden feared that it had lost its only real hotel.
In 1991 a team of very successful restauranteurs were sitting across the street enjoying coffee at what is now Woody's Wood Fired Pizza, looking out at the former Holland House building, when they decided to "make a go of it"! 56 years after the building had opened as Hotel Barrimoor, Bart Bortels and Frank Day would give the landmark building the greatest overhaul Golden had seen, and they created Table Mountain Inn. The exterior was stuccoed, the rooms were gutted and completely rebuilt and the lobby and restaurant were recreated resulting in the elegant Southwestern décor now iconic of Table Mountain Inn. For the next 7 years the hotel would experience great success with its 32 rooms, lounge and restaurant. It was great… But as they say, it can always be better. In 1999, Table Mountain Inn built an addition to the building which added 42 rooms, guest parking and additional indoor/outdoor event space, thus solidifying Table Mountain Inn as THE place to stay and dine in Golden.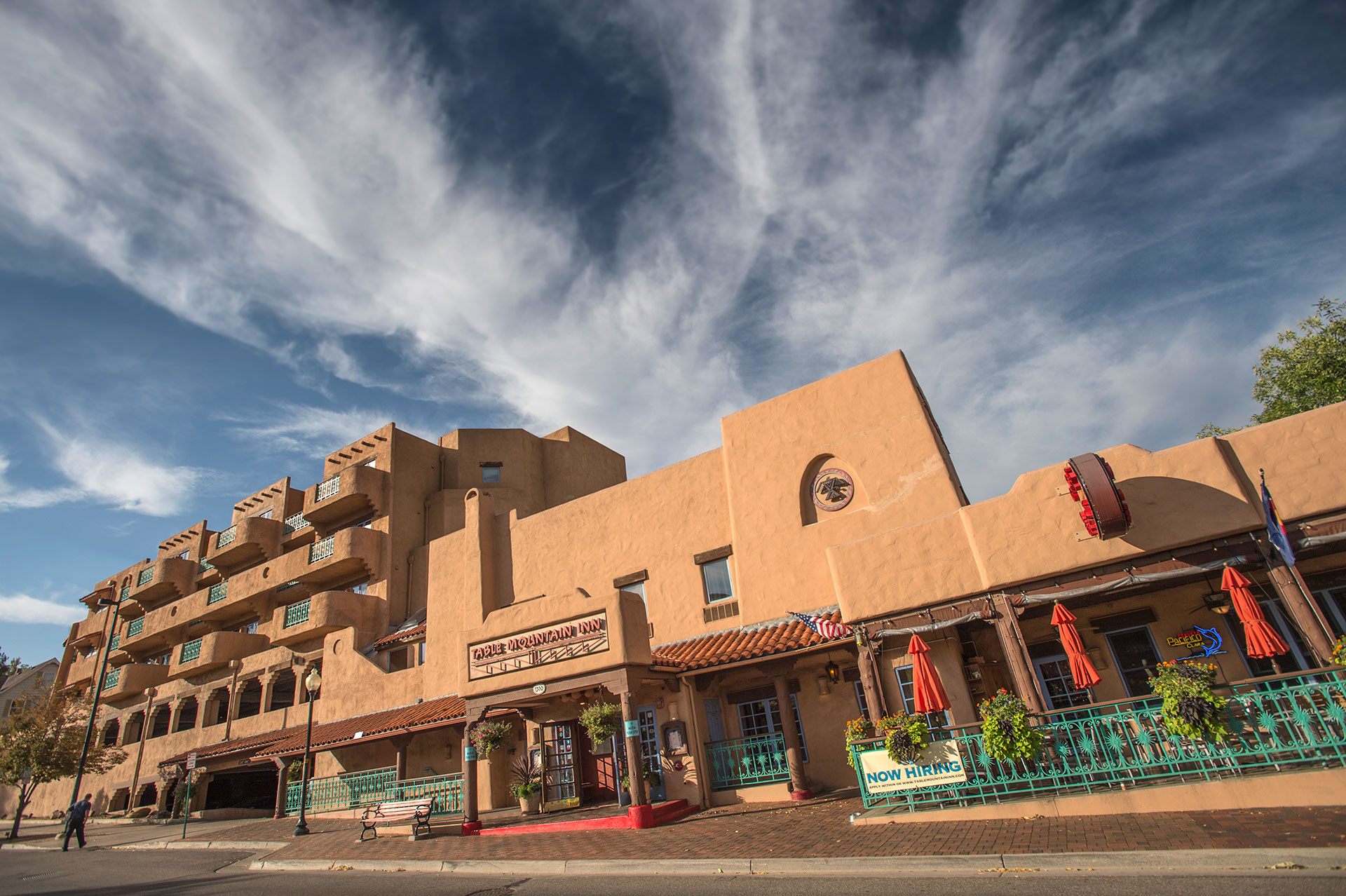 From its Spanish Style to its Western Elegance, Table Mountain Inn has come full circle from its origins. Table Mountain Inn is a hotel where nothing has been overlooked for the convenience and comfort of the guest and a hotel of which the city of Golden can be proud!
What Our Guests Are Saying
"LOVED this place! Our stay was perfect. We wanted a room where our grand baby had room to move after a long drive and it did not disappoint with a safe balcony that had views of the town and mountains. Check in was fast and friendly. Parking was easy. The restaurant had the best Mexican food with a great happy hour menu…"
– Mike, April 2022
"My kids and I loved this location and the room was the perfect size for us! The room was clean and the staff was always very nice! Everything you could need is in walking distance!"
– S. December 2021
"We (mom, dad, and teen) stayed two night in the suite, which has a room with a sofa a/pullout bed and another room with a king bed. Two balconies. Very spacious and great views of Table Mountain. Very comfortable beds. The room had a gas fireplace. It was lovely. Staff very nice and accommodated our request for an early check-in. Be sure to have dinner or breakfast at the attached restaurant!"
– Kili, April 2022
"Very nice Hotel in downtown Golden Co. Close to everything in this lovely area. The hotel itself is clean and accessible with ample parking. The staff was very friendly and helpful."
– P., October 2021
"The locations was great! Coupled with the very friendly staff and good food in the on-site Cantina, it's a perfect location for a trip to Golden! And easy to get anywhere you want to visit."
– B., March 2022
"My daughter and her groom booked a block of rooms at Table Mountain Inn…It was spectacular. There was a nice variety of rooms. Fabulous views of neighboring mountains. Full housekeeping service daily. Wonderful dining and drinking opportunities downstairs. TMI is on a bustling street with loads of shopping/dining/drinking possibilities steps from the door.
Rooms furnished with southwest flair. Good beds and towels."

– Y. H. Q., September 2021
Explore the beautiful Southwestern Table Mountain Inn property.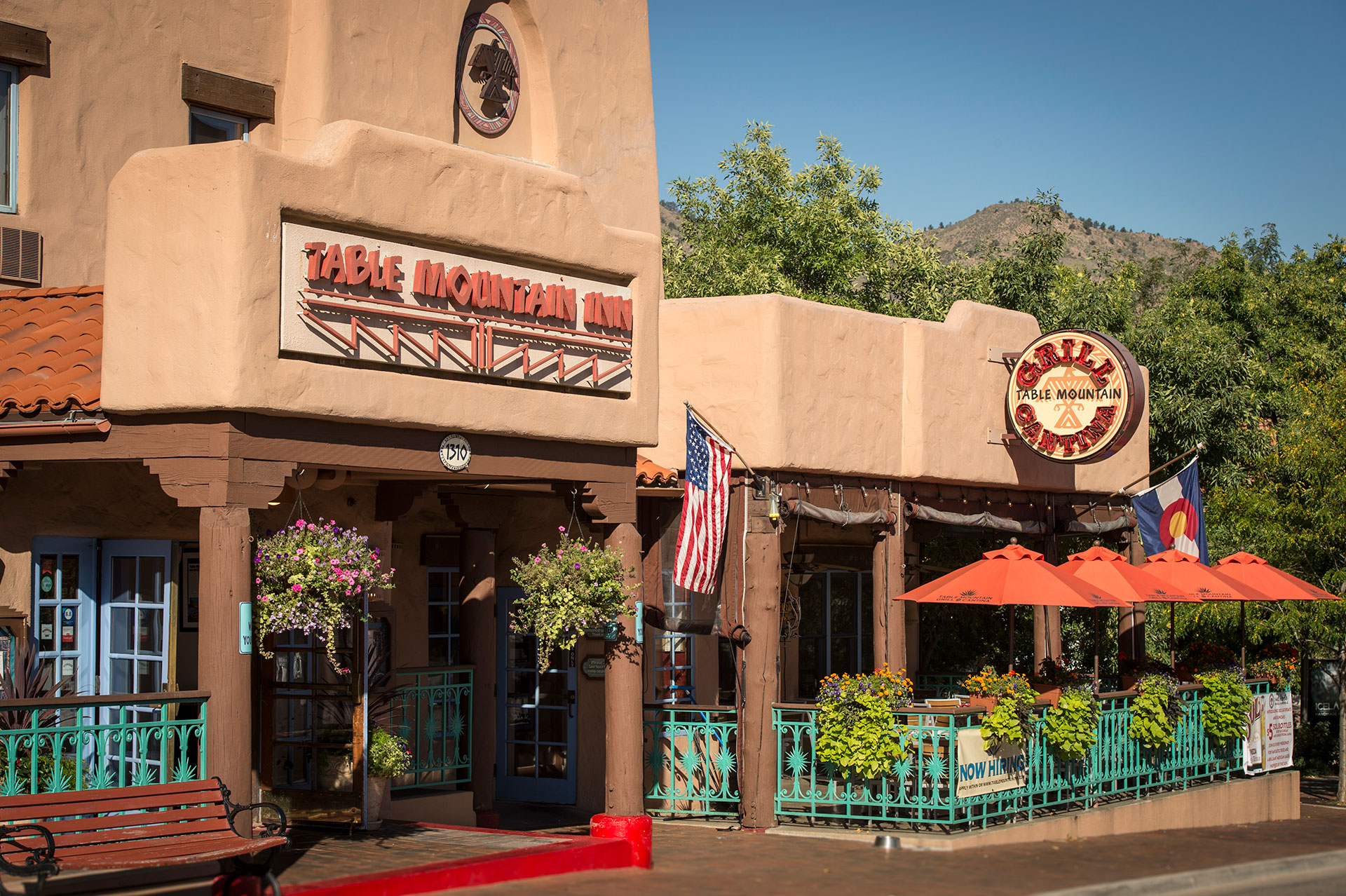 Located in the heart of downtown, Table Mountain Inn is a landmark in historic Golden, Colorado. Experience the Southwestern Charm and beautiful mountain views within our adobe-style boutique hotel. Guests are welcomed with Western hospitality as they enjoy our spacious accommodations with modern amenities. 
Chalkboard Communications – Heather Noll 
510.922.9426 (office) | 415.290.2891 (mobile) 
VIEW BRANDING AND PRESS MATERIALS